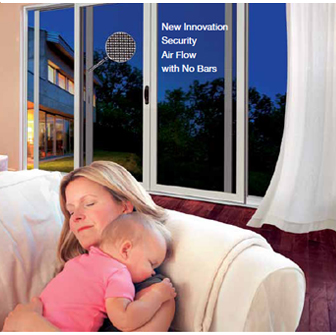 Home and family are where your heart are hence security and comfort are essential. Unfortunately, the chance of your residence being broken into by intruders is high. MAJESTEC™ Doors and Windows can help provide you and your loved ones with the protection and peace of mind you need. MAJESTEC™ products, whilst similar in appearance to ordinary fly and insect screens, are manufactured from a high-tensile stainless steel mesh which is woven and framed with a specially designed and powder-coated aluminum. Our mesh screens provide a clear view and good air circulation.
MAJESTEC™ Security Mesh Screens
MAJESTEC™ Security Mesh Screens are manufactured from high-tensile stainless steel wire and powder coated. MAJESTEC™ Security Mesh Screens integrate the latest advances in high tensile wire materials which are woven, using our specialized weaving processes, into high quality stainless steel mesh. This means that our products meet or exceed Knife Shear Testing according to Australian Standards AS 5041 – 2003
MAJESTEC™ Special Framing System Design and International Patents
MAJESTEC™ Security Doors and Windows are designed in-house utilizing our Internationally Patented systems and manufactured from heavy duty aluminum (6063-T5 grade). The strength of MAJESTEC™ frame designs, our fixing systems and high material specifications means that our products therefore meet or exceed the various performance requirements of Dynamic Impact Testing; and Jemmy Testing in accordance with Australian Standards – Security Screen Doors and Windows Grilles (AS 5041-2003).
Powder Coating of MAJESTEC™ Security Doors & Windows
MAJESTEC™ protective finishing helps increase product lifespan and provides superior appearance of MAJESTEC™ products. MAJESTEC™ security mesh screens and frames are powder coated in-house, using the latest advanced technology and in accordance with Metal Finishing Standards AS 3715-2002. The coating process exceeds Salt Spray Test ASTM B117 proving the durability of MAJESTEC™ products against corrosion – to give you confidence in product lifespan without compromising on the appearance.