The reason why I chose MAJESTEC™ is because I wanted to keep safe from thieves and I think safety first is better. And if we compare MAJESTEC™ with emergency alarms these can be disabled by cutting electric cables before intruding into the house so something that protects from intrusion is better. MAJESTEC™ is good choice for this with its strength, design, and fine hardware. It is everything I was looking for my house. I was worried about obstruction of views however this was no problem.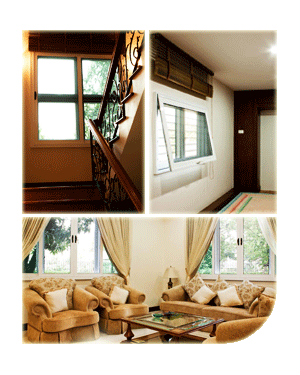 Khun Lena Asawateera

Home is a place that we have to protect from outside intruders and MAJESTEC™ is strong with nice design Interview with Khun Lena Asawateera, Managing Director of Dino Paint Company Limited, another valued customer of MAJESTEC™ Premium Security Doors & Windows.
I walked the Architect fair a few years ago at Muengthong Thani and thought that what interesting product!. It looked firm and nicely designed, compatible well with either UPVC or aluminum. It is very strong and can also protect from mosquitoes. I visited the showroom and asked for a site survey and quotation. I compared MAJESTEC™ with other products but they did not fit my requirements as they obscured views and were operated with motors that might be harmful in the event of fire. For beauty MAJESTEC™prevailed over them all.